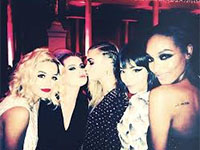 If you were under the impression that casino games were only or primarily enjoyed by men, you would be quite wrong. This may be the image that some people have but the statistics and findings indicate that there are plenty of women who love playing casino games. This is something that Titan Casino knows too well and of course, they have membership details to prove it. However, it is never a bad thing to promote equality and to make sure that females feel as though they get every chance to enjoy the same games and opportunities as men do.
Titan Casino is taking big steps this month and with this Saturday being International Women's Day, the site is right behind making sure women have an enjoyable place to play online casino games. However, don't think that the site is only looking to provide fun and enjoyment on Saturday the 8th of March. Titan Casino is taking the opportunity to support women all month long so the girls can have a brilliant time on site for the whole of March!
Women should enjoy their time on the Titan Casino site
The Here Come The Girls promotion is already underway and the prize is a weekly one and it could see a £1,600 valued Dell Inspiron laptop heading your way. All you need to do is play and be a winner. If you are, you will find yourself in the running to be picked out of the big prize draw, with the first draw taking place on Monday the 10th of March.
The site is still running its usual range of great games and attractions, so there are a lot of reasons to get involved. This is why you'll want to uncover the latest bonus code for Titan Casino to ensure you are playing with the best chance of winning. If you are looking for a game based around a female icon, the Marilyn Monroe slots game is likely to be one of the best options you will come across.
Hopefully women will feel as though they can play on casino sites like the Titan Casino site because they are of course very welcome. However, it may be that some women will feel as though it is the natural habitat for a man. If this is the case, the way that Titan Casino is looking to add a special level of promotion is a major thing and hopefully March will see many females starting to play on the site.